Bohemian Reading & Educational Society - Česky Čtenařsky V Zdělavajici Spolek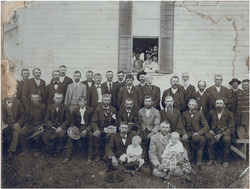 On January 9, 1876, a small group of Bohemian settlers in McLeod County met at the home of Josef Zila in Hutchinson township for the purpose of providing social and educational advantages for themselves and their children. The charter members of the Bohemian Reading and Educational Society were Josef Kadlec, Paul Chernausek, Josef Janecky, Vaclav Pessek, Josef Zila, Jan Kasper, Anton Zeleny, Josef Friauf, Frank Kasper, and Vaclav Zavoral.

Meetings were held on the first Sunday afternoon of each month, at the home of John Danek or John Drahos, and dues were ten cents per month. Incorporated into the bylaws was a resolution that the Society purchase $20 worth of Czech books each year; teach school in the Czech language; organize a Czech choir and Dramatic club. In 1882, membership had increased to fifty, too large for any home, so it was decided to build a Hall. In 1883 a committee of Frank Danek, Paul Chernausek, J.V. Kadlec, Frank Mikulecky, and John Vojta bought an acre in the southeast corner of section 35, for $60. The dimensions of the Hall built that summer were 52 feet long, 30 feet wide and 16 feet high, and was first used November 10, 1883.

Portrait Photos of Members of the Bohemian Reading & Educational Society
Hutchinson Township, McLeod County, Minnesota.

---